The ESA offers the Marsh Scholarship Fund for current ESA members to earn money for college.  Established in the early 1980s, the ESA has awarded thousands of dollars to ESA members pursuing their career goals by attending college.  It is the largest and longest running scholarship program in the U.S. surfing community.  Recipients of these awards have achieved academic excellence.  They have also been contributing members of the ESA.
Click here to view the ESA 2022 Marsh Scholarship recipients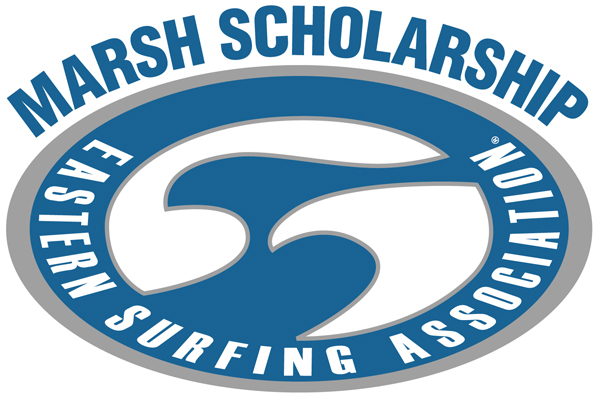 Marsh Scholarship Fund
To apply to the Marsh Scholarship fund, download the Marsh Application or contact us for more information about the ESA Marsh Scholarship Fund.  Deadline for submission is July 1st of each year.  The applications are judged by an elected group of trustees for awards to be announced by September 1 each year.  Donations and gifts to the Marsh Scholarship Fund are welcome.  
MARSH SCHOLARSHIP PROGRAM APPLICATION GUIDELINES
The Marsh Scholarship Program began when it was instituted in 1981 by former ESA Executive Director Dr. Colin J. Couture to recognize and honor the accomplishments of the Marsh Family of North Carolina and young Mike Marsh in particular. Led by his legendary East Coast family and surfing's highly respected matriarch, Bette Marsh, Mike set a pioneering example for students everywhere by earning his law degree while simultaneously and successfully waging his own personal battle with cancer. The purpose of the program is to offer financial aid to deserving ESA student surfers wishing to continue their education beyond secondary school level. The grants are awarded to ESA members on the basis of academics and U.S. citizenship, rather than athletic ability.
APPLICANTS MUST SATISFY THE FOLLOWING CRITERIA:
You must be a CURRENT Eastern Surfing Association member in good standing.
When filling out the application, print in ink or submit typewritten (preferred).
No application will be considered without an official school transcript. You should request your school(s) to send an official transcript(s) to the address below.
Submit a letter of recommendation along with your application. The letter should be from someone who is not a member of your family.
Submit a short, (no more than 500 words) typewritten letter addressed to the Marsh Scholarship Committee detailing your future goals and how your choice of educational institutions will help you reach these goals.
Application and all other pertinent information must be returned to the Marsh Scholarship Committee by July 1.
The Marsh Application, along with the additional information you attach, will be used to determine your eligibility for an ESA Marsh Scholarship Grant. To this end, you are advised to follow the directions above very carefully and submit all items required completely.