The ESA's co-founder and dear friend Cecil Lear peacefully passed away on Sunday, January 16 with his beloved family by his side.  A pioneer and advocate for East Coast surfers, Cecil will be greatly missed by the worldwide surfing community.
Cecil also co-founded the East Coast Surfing Hall of Fame.  Below is Sunday's post from the ECSHOF:
The East Coast Surfing Hall of Fame is saddened to announce the passing of Cecil Lear today at 91 years of age. Cecil most recently participated in the Induction Ceremony for the Class of 2022 into the Hall of Fame at Surf Expo in Orlando, Florida on Wednesday, January 5, 2022.
Cecil was born in 1930 in Irvington, New Jersey and raised in Caldwell, NJ before moving to Belmar, NJ in 1946. In 1952 Cecil graduated from Drew University with a BA in Economics and worked mostly in advertising sales during his professional career, which included a stint working for Petersen's Surfing magazine in the early 1960s. Several years after moving to Belmar, Cecil took up surfing and thereafter began his dedication to better surfing for East Coast surfers and beyond.
Cecil was co-founder of the Eastern Surfing Association (ESA) along with Rudy Huber and served as its Competition Director from 1967-70. From 1971 to 2017 he was the ESA's Secretary and Historian, providing invaluable advice to the organization's Board as it developed into the largest surfing competition organization in the world, where it developed many champions including 4x World Champion Lisa Andersen, 3x World Champion Frieda Zamba and who many consider the greatest surfer of all time, 11x World Champion Kelly Slater.
In 1996 he co-founded the East Coast Surfing Hall of Fame along with Greg "Da Bull" Noll, and served as its president from then until 2017, when he stepped aside to become President Emeritus while still retaining a key position on the Board. He is also a member of the Hall of Fame's initial Class of 1996 alongside many of the great pioneers of East Coast Surfing. Cecil is also a member of the New Jersey Surfing Hall of Fame Class of 2015. Long before his passing, both organizations launched the Cecil Lear President's Award to honor individuals whose leadership and mentorship helped to advance New Jersey and East Coast Surfing.
In 1969 Cecil was given the Surfer magazine, Surfer's Cup award. In 1974 he received the coveted Nancy Katin Recognition Award, and in 2015 Lear was presented the Surfing Heritage And Cultural Center (SHACC) prestigious Lifetime Achievement Award during a formal ceremony held at The Smithsonian in Washington D.C.
In October 2021, Lear was inducted into the Huntington Beach Surfers Walk of Fame under the Surf Culture category along with his mentor, Lewis Earl "Hoppy" Swarts, who founded the United States Surfing Association, USSA, in the early 1960s, and who advised Cecil on launching the ESA.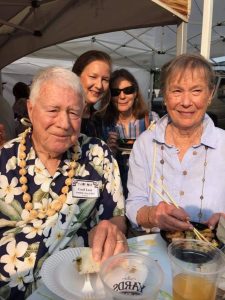 Lear will always be remembered for his lifetime of dedication to better the sport of surfing for East Coast surfers and surfers everywhere. He is survived by his wife of 67 years, Mary Lou, and two daughters, Nancy Lear, who resides in Dallas, Texas, and Jeanne Peck, who lives in Michigan.
The East Coast Surfing Hall of Fame Board of Directors sends its deepest sympathies to the Lear Family.
Aloha and much respect, Cecil.