Over three months ago the world seemingly came to a halt and with it many surfing communities around the globe. Those lucky enough to still find themselves in the ocean's embrace, particularly on the East Coast, throughout the crisis were among the fortunate few.
The cast of ESA All-Stars, each hailing from up and down the diverse coastline, had to deal with the stages of quarantine and stay-at-home orders differently from state to state. Without events to contest, these young talents have been able to take a step back and enjoy the little things with family. We caught up with these All-Stars to reflect on better times, how they've been keeping up and motivational quirks that have kept them going.
Pt. 19 features New York's man of many traits Noah Avallone.
Noah Avallone: "Get Busy Living or Get Busy Dying"
In the grand scheme of things a missed birthday celebration doesn't fall too high on the list of priorities during a pandemic, but it's always an unfortunate one nonetheless. Such it went for now 13-year-old Noah Avallone as he entered the realm of teenager in May but the New York competitor has enough fond memories in 2019 that can keep his spirits high – along with still being able to surf throughout quarantine. Avallone's prowess on all boards notes his abilities to adapt with accomplishments in shortboard, longboard and a 3x national snowboard champ. 
ESA: What's something that you can look back on in 2019 that keeps you stoked?
Noah: the most memorable experience was the Easterns. We had pumping surf for both free surfing and the competition. Getting to hang out with my friends from ESA NY that i don't see except for comps was the best. Surfing, skating, exploring and group dinners were a blast. 
How did your family respond to the quarantine situation?
We quarantined in Vermont from March 11th to May 11th. we made a couple trips to Montauk to surf, but as a family we felt safer in VT. I didn't work with any surf coaches and since my dad was surfing too I didn't get many clips. I took up mountain biking and we hiked the closed resorts nearby and snowboarded down almost daily. It was epic learning about snow and how it changes. All ofthis has really worked my lower body to compliment my surfing and kept up my cardio and endurance for paddling. 
Did your family have a motto or discover a quote you could find inspiration in?
Our family motto has been "get busy living or get busy dying" from the film Shawshank Redemption. We got busy living!  We followed stay at home rules except for hiking, biking, snowboarding, and surfing – all naturally away from people. Naturally physical & social distancing. When doing these activities, we always kept safety in mind, trying not to overreach our abilities to avoid injuries. 
"Surf's up" with Cose Stoyanoff 
The Virginia Beach, Virginia, local surf future looks bright with the likes of Zach Starr from pt. 14 and 12-year-old Cose Stoyanoff in the mix. Stoyanoff continues to push his surfing each year as he prepares for his teenage years ahead and has a lot to look forward to. We spoke with Cose recently to get his perspective and catch up with the All-Star.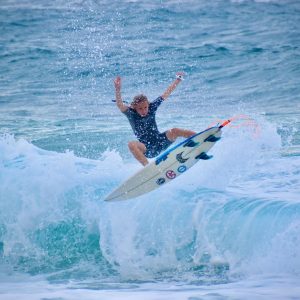 ESA: Having some time to look back and reflect, what were some standout moments for you in 2019?
Cose: Most memorable trip of 2019 was when I went to Aguadilla, Puerto Rico. I have great memories of surfing at a bunch of different breaks. I went with a great group of people including some of the other ESA All-Stars Mack Landry and Camden Hoover. We had such a great time and we surfed every day. My most memorable moment of 2019 was when I found out that I made the ESA-All Star Team! And my most memorable ESA contest of 2019 was surfing at Easterns' for the first time. The waves were firing, and I placed 10th overall in my age group.
That's a busy year! Shifting gears into 2020, how were you able to stay up to speed during quarantine?
During the quarantine I have been working with Jason Borte. Jason was a pro surfer and was also an ESA All-Star. It's been awesome surfing with him and having him coach me. He has been working with me on the beach, in the water, and he has been reviewing my videos and giving me pointers. I have also been watching a lot of surf videos from my favorite surfers. Overall, I have been keeping busy. When I am not surfing. I skate at the skate parks or my friends' ramps. I work on my carver board in the street. 
I have a balance ball and I do a lot of balance type exercises or I work out at home with my mom. She likes to stream these crazy online video workouts and they are keeping me in shape. When I am not doing that, I am finishing my homework, doing chores around the house, and fishing.
Does your family have a motto or a quote that's stood out to you during this time?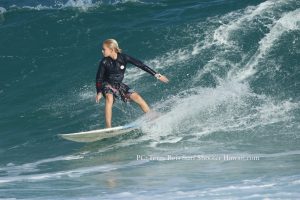 The family motto during this time is probably… "Try not to strangle anyone." Both of my parents are working from home, so we are around each other A LOT! Sometimes it's a little stressful because they both have important meetings at the same time, and I need their attention about something important…. like, "the surfs up!"
Pt. 19 features New York's man of many traits Noah Avallone on Monday, June 29.
It's All About "Attitude" for Landon Wood
By the time many surfers turn 16 they've notched a few highlight moments to keep them motivated for more, but how about taking on six-to-eight foot Sunset Beach? Landon Wood did just that earlier this year to start his 2020 before everything stopped. But the North Florida competitor remained busy and kept up with his training through the offseason. 
ESA: What was it like charging Sunset? 
Landon: It was a memory and feeling I will never forget. It was a great year of surf competitions for me.
Any other memorable moments that you can reflect on?
I usually participate in boys U16, U18 and Mens Open. I have a lot of fun competing regardless of the outcome and I enjoy just being surrounded by my friends and family. I have traveled to Puerto Rico, Costa Rica, Barbados and Hawaii in the 2019/2020 year. 
What have you been up to during the slowdown? 
I work with Cody Thompson at Thompson Performance, Evan Thompson and Coach Jason Motes with the ESA All-Star team throughout the year. I also do a lot of free surfing with my friends all year around Florida and I've stayed very active through quarantine with my parents keeping me on a schedule with virtual learning. They turned our garage into a home gym and when the waves are flat we go skurfing and fishing when I am done with school. 
Has your family developed a motto or found a quote that has helped keep everyone on track?
Our family's motto is "Attitude." It's my mom's favorite quote by Charles Swindoll. 
Pt. 18 puts a spotlight on Virginia Beach, Virginia's, grom standout Cose Stoyanoff on Friday, June 26.
Grace Knoeckel: "Get Out of Bed and Be Productive"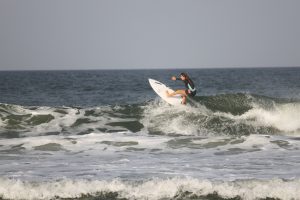 What are some memories from 2019 that meant a lot to you?  
Competing at the 2019 Easterns for the first time and having firing waves for the contest is one of my favorite memories. I made finals in U14 and in U16 and semis in open longboard.  Becoming 2020 ESA Allstar team, becoming friends with the other surfers and going on an amazing trip to Hawaii in February was awesome. 
Have you worked with any coaches during the quarantine?
The ESA has had some Zoom trainings where we learned a lot about the behind the scenes of competitive surfing and judging. I did some training on my own during the quarantine and I returned to training with Mike Quintal after we quarantined. We are lucky enough to have our beaches back open in Florida so we have been doing a lot of surfing and reviewing footage. If the conditions are bad we have been doing a lot of land training. When the beaches were closed and the waves were good I would go with Lanea Mons, also an ESA- Allstar, on her dad's boat and we would surf secret spots along the coast.
What did you feel helped the most being able to keep up with any kind of routine you could find? 
What helped the most was staying on a routine of doing schoolwork, surfing and training. It's nice to have the flexibility doing virtual school to be able to surf when the waves are good and get school work done at night. Being able to still surf and stay active helped me keep up my motivation to be productive throughout the day instead of being lazy and just laying around all day long.
Has there been a saying or quote you and your family have found relatable to help get through?
My family motto through quarantine is to get out of bed and be productive. I have been remembering this motto through this time because it's been helping me to stay positive and to keep busy and get stuff done.
Teddy Witteman's Staying Positive and Hopeful 
At age 11 Teddy Witteman has been up and down the East Coast, broken limbs and blown an eardrum. The up-and-coming Central Florida surfer had quite the 2019 and carried that spirit into the tough times that awaited in 2020. A product of his community, Witteman finds himself under the wings of some local icons and its showing.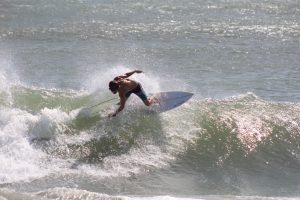 ESA: How have you kept busy with the slowdown?
Teddy: I have been really busy working on school work and helping take care of things around the house. I have not really been working with any coaches but I've been surfing a lot though. We live down in South Brevard and there are a lot of really good surfers in my neighborhood that I surf with sometimes like Chauncey Robinson, Robert Madden, Blake Speir and Mr. Speir sometimes.I watch a lot of old surfing heats and the ESA talking story programs on the computer. I also watched and listened to some of the ESA programs about judging and stuff.  I really don't work out a lot.  I skate, surf, and jump on my friends trampoline a bunch.  I can do a lot of really cool tricks on the trampoline now. 
What are some 2019 highlights you can reflect on during these tough times?
I was really happy to make it to the Easterns final in NC in 2019. I had a great time competing with friends in CFL events and going to the SEC contest also. Last year I had a broken arm and blown eardrum that kept me out of early contests but I went to cheer on my friends and help Mr. Mario set up and run the contests.  
The trip to NC was amazing. My dad and I stayed in a house with some other ESA surfers and All-Stars including Ava Drusch, Logan Radd, Beckam and Daya McCart and Mr. Mario. One night we had a big dinner at the house. The best part was going to play on the big sand dunes together. Ava, Logan, Amber, me and my dad all boogie boarded down this 60 ft dune and did back flips off the top. Then the surfing in Frisco and Buxton was epic. There were barrels and everyone surfed awesome. Then when the winds turned and the contest started it was fun surfing overhead waves. There are alot of great memories with so many people and I am blessed and grateful for all them.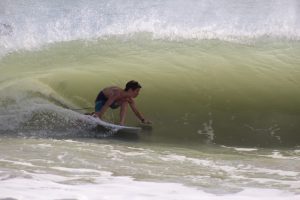 Does your family have a motto or quote you've used for inspiration?
Well, our family does not really have a motto but we put a lot of trust in God. We have been trying to be really kind to one another and helpful to friends and family.  We made sure to keep in touch with my grandparents and aunts and uncles.  We also called older members of our Church to check on them. So, I think that it has been really tough for people, but we need to be positive and hopeful.
Keep Calm and Move Forward with Zach Starr 
Virginia Beach, Virginia, has produced some iconic names from the old guard of Wes Laine, to the modern day icons such as Michael Dunphy, and newcomer Zach Starr has been able to see a glimpse of it in his childhood. Starr's 2019 was overshadowed with an unfortunate injury but it was something he took to heart and grew from, preparing for a big 2020 that was cut short. We connected with the Virginian to catch up and talk reflecting, staying busy and more.
ESA: What's a memory you can look back on in 2019 that keeps you motivated?
Zach: One special memory was at Easterns® and what made it special was that I got hurt and could not compete but I had some great memories of supporting the All-Stars, getting to know the All-Stars, and staying I the All-Star house. I also went to Hawaii with the boys and had a blast in 2020.
Have you worked with any coaches during these times?
I have worked with Coach Motes picking and designing a Savage surfboard and got some pointers with boards. I have also been trying to keep a great workout routine, but it does differ some days to do other fun things.  I stay mostly active everyday/working out.
What's been your family's motto or a quote to help stay positive?
I think just trying to keep calm with the same people everyday we are stuck with.
Abbie Yates: "I'm Grateful and Blessed that Survival is Instilled in Me"
For Melbourne Beach, Florida, competitor Abbie Yates this time has shown that her survival instincts were always there and now shined through. Taking a massive win in 2019 at Easterns solidified a brilliant run through the year and then took that confidence onto the WSL stage in Cocoa Beach. It was a great year when looking at those highlights, but her and the Yates family have also dealt with their fair share of hardships.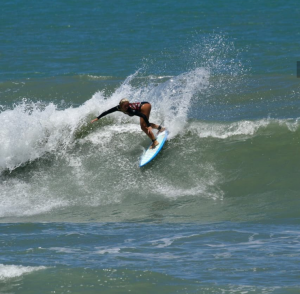 ESA: Were you able to stay up to speed and keeping training in the water or were you relegated to the land for some time?
Abbie: During quarantine I have been practicing everyday along with workouts and skating. The beaches here luckily didn't get shut down so I never had to stop surfing. My coach, Brett Hedleston, has been pushing me and helping me get better while quarantine has been going on. He's been pushing me to practice new things and adding to my surfing. Luckily my mom owns a fitness studio so I was able to focus on getting stronger which has helped me became a better surfer. I've spent countless hours of skating and working on surf maneuvers on my skateboard. Out of the water my dad has still been able to be there with me even with everything he's gone through. He is still able to coach me mentally and teach me to be strong. 
Looking back on 2019 as whole what are some memorable moments you can reflect on?
I made a lot of amazing memories with a lot of amazing people. One memory that meant so much to me was when I won Easterns. It was the best feeling in the world and so excited to have that result in my life. Another awesome memory was making it to the Semifinals in the Roxy Junior Pro in Cocoa Beach – that was an amazing experience and such a fun contest that I got to go to. And another fun memory was going to Puerto Rico with a few of my friends, Ethan and Pal. The three of us are going to be featured in the amazing documentary STOKED, which will be coming out soon! It's gonna be a documentary about us young surfers and how it all began.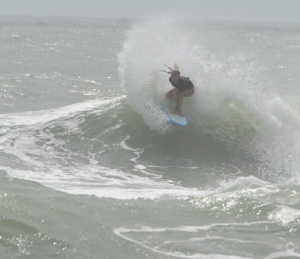 Is there a motto or quote you and you family have related to during this time?
Not necessarily a quote or motto but this taught me survival. It wasn't really the Corona virus that taught me that though. The pandemic just brought the survival out of me. It made me realize that our family has been facing a pandemic for years with my dad and his survival. I'm grateful and blessed that survival is installed in me, to get me through tough times like these. 
Niyah Rosen Isn't Just Sitting Around During the Slowdown
New Smyrna Beach, Florida, is a talent pool that rivals some of the top West Coast hotspots and Niyah Rosen is emerging from that very stretch of beach. The 13-year-old had a busy 2019 getting her feet in the competitive waters and was able to keep her surfing on point throughout quarantine. We caught up with the pint-sized competitor who packs a punch.
ESA: What are some memories from 2019 that meant a lot to you?
Niyah: One of the best parts of my 2019 year was spending the summer in Newport Beach CA after competing in my very first NSSA Nationals, which was a great experience. Another great part of my 2019 was getting my very first invite to compete on the east coast in the u16 and u18 girls USA surfing primes series! I had a lot of great memories with some really great people!
What did you feel helped the most being able to keep up with any kind of routine you could find?
I am lucky enough that non of the beaches where I live shut down or closed and my surf coach is my neighbor so I have still been able to train and surf with him whenever we have waves.
What's been your family's motto or a quote that you were able to relate to and find motivation in?
Me and my family are just taking everything day by day, doing the little things that will have a larger impact later on. A quote that my dad said to me when all of this first started was, 'How are you going to respond?' Which basically meant are you going to sit around and do nothing or go train, I am looking at the stay at home order as an opportunity to get stronger and better myself.
Catching Up with Carly: Staying Active and Staying Healthy
To be an ESA All-Star goes far beyond just what you can accomplish in a jersey. It also speaks volumes of your character, scholastics and overall presence when at events. Carly Coble embodies just that and is an All-Star in every right hailing from Manasquan, New Jersey. Catch up with the 15-year-old as we reflect and stay connected as summer draws upon us.
ESA: How have you been staying up to speed during quarantine?
Carly: My quarantine has mainly consisted of doing at-home workouts off of YouTube and surfing as much as I can. I try to set at least 20 to 30 minutes each day to do something active whether it's doing a video workout, skating, or going for a walk with my mom.
ESA: What are some moments from 2019 you can reflect on that remind you to keep smiling?
Some of my favorite events from 2019 include surfing in the finals at the Ripcurl Grom Search in Nags Head, North Carolina, in the U16 at the ESA Northeast Regionals and in the Semifinals at the Belmar Pro. Also, becoming an ambassador for Sisstrevolution and D'Blanc was an impactful moment that I recall from early 2019. Lastly, I truly enjoyed volunteering for the A.W.O.W. (A Walk On Water) event in Spring Lake, New Jersey where I was able to help a lot of amazing children and share in their special day.
ESA: What's a quote or saying you've connected with to help stay positive?
The quote from High School Musical, "We're All In This Together!" has been the underlying theme that will stick out as a memory from these times. I always hear this quote on the news and on signs throughout my town, and it reminds me of my childhood because as a little girl I basically lived and breathed off of High School Musical.
Grom on the Rise: Will Deane
The ESA has the privilege of watching next generation East Coast competitors get their start and witness their career paths unfold. For the likes of Kill Devil Hills, North Carolina's, Will Deane it's no different. The 12-year-old continues to show a fearless approach on the iconic shoreline of Outer Banks and showcasing his talents at contests both amatuer and professional.
We were able to catch up with Deane, who remained one of the fortunate ones when they closed off access to Outer Banks and the residents were left to empty perfection multiple times this spring.
ESA: Looking back to last year, what were some moments you can reflect on to keep your goals in mind?
There were so many awesome things that happened. The most memorable were winning the U12 division in the Mid-Atlantic Regional, winning the Oakley Surf Shop Challenge for the Mid-Atlantic Region, taking 3rd in Open at Easterns, winning my my division and $250 at Rip Curl Grom Search and winning my division and $500 at the East Coast Grom Tour Championships
It's certainly a resume-building year! How have you stayed up to speed during the times of quarantine?
I've been working with my coach, Geoff Armstrong by uploading clips and having him give me feedback on FaceTime. I can't wait for comps to start back up soon.
What's a motto or saying your family has seen or developed to stay positive?
We don't really have a motto but our island was closed to visitors during quarantine. We talked a lot about being lucky to be able to surf and go to our beaches during that time and most of all were lucky to have waves all spring with no crowd.
Kaylin Weinrich: "When Everything is Uncertain, Everything That is Important Becomes Clear"
Florida experienced a hefty hit from COVID-19 in hotspots such as Miami and metropolitan areas but the state began to reopen steadily in April. For Boynton Beach's Kaylin Weinrich, the wait was a bit longer as they reopened their local beaches on May 17 after being closed for nearly two months. But, the 15-year-old stayed optimistic and we were able to catch up with her on how she stayed up to speed, healthy and reflected on her 2019.
ESA: What's something that kept you sharp during quarantine and beach closures around your hometown?
Kaylin: I've been reviewing my personal surf clips with my dad and taking note of the improvements I need to make. I have also been watching WSL replays from various WSL longboard contests. Watching pro events has allowed me to study the positioning and different approaches competitors take while nose riding and completing maneuvers. In addition, some of the beaches up north are open, if proper social distancing is maintained, so I've been able to get a few sessions in over the past month.
In order to stay active, I have been working out consistently, swimming and skateboarding. I've been using a few YouTube workout videos as well as workout routines from the Surf Athlete app made by Cris Mills. I've stayed on top of my workouts because I have created a routine in which I work out every day before my school classes begin.
You stayed busy! What are some moments from 2019 you can look back on that help keep you motivated?
In 2019, I had the opportunity to create a few amazing surf-related memories. Winning the Menehune longboard title for the second year in a row and placing 2nd in the junior women's longboard final at the ESA Southeast regional championships was definitely an empowering experience. I also competed in a few local pro events and collected some cash prizes which was a lot of fun. Over the summer of 2019, I was given the opportunity to work at Hula Surf camp where I taught kids how to surf. I truly loved spreading the stoke and educating youth on the fundamentals of surfing.
What's a quote or saying you saw that inspired you during these tough times?
I came across a post on Instagram with the quote "when everything is uncertain, everything that is important becomes clear." I believe this quote is quite inspirational during this difficult time because it made me realize all of the aspects that hold great importance in my life. Primarily: family, friends, good health, fitness, surfing, and school.
"We're All In This Together:" Miller Brennan
Our beloved East Coast witnessed one of the world's epicenters of the virus in New York receive a devastating blow. For surfers like 15-year-old Miller Brennan who live just a "stone's throw" from the downtown area, some refuge could be found in the ocean. Brennan's 2019 was something to take note of as he continues to hone his shortboard capabilities competitively.
Stay connected with Brennan as we caught up with New York teenager.
ESA: How did you and your family fair when everything started happening?
Brennan: Luckily we are a few minutes from the beach which stayed opened here in NY and I got to surf. But it was difficult for my sister who is a senior in high school and is missing out on a lot of senior activities. We just kept hoping for the best for everyone in the city.
Looking back on brighter days, what are some memories from 2019 that you can recall and reflect on?                                                                 The highlight of my surf year was traveling to Hawaii with the ESA All-Star Team early in 2019. It was truly humbling and inspiring traveling and surfing in Hawaii with my coaches and teammates creating great friendships and amazing surf memories – and to top it off surfing Pipeline with Tamayo Perry.
One highlight competitively this year was being the "Open" shortboard points leader in my local ESA NY chapter which qualified me for a sponsored slot in the 2019 Unsound Pro Volcom contest. I also won the "King of the Beach" during the WSL event which was awesome and can't think the Skudins enough for helping organize that.
How have you stayed up to speed and kept your competitive mentality sharp?
I listened to Coach Motes talk to C.J. Hobgood about his experiences becoming a pro surfer and competing professionally. It was cool to hear him talk about juggling school and contests. We also listened to the WSL (North America Tour Manager) and a contest judge on an ESA zoom meeting about transitioning into pro contests!
What's been you family's motto or a quote to help stay positive throughout this ordeal?
We are all in this together!
Mack Landry: "Get Through One Day at a Time, and We Start Our Days Over Alot"
On March 24, North Carolina's declaration State of Emergency shutdown all beaches with no access and Carolina Beach remained that way until the end of April. For young groms like Mack Landry, it was a devastating blow as he couldn't find his solace in the waters of his hometown. But, the 12-year-old stayed inspired and had an incredible 2019 to reflect on as he awaited his time to get back in to what he loves – a place he's been able to return to since the beginning of the month.
We caught up with the 2019 event standout to talk about those moments and how he and the Landry family have held up the last few months.
ESA: What were some of the most memorable times from 2019 that you could look back on with excitement?
Mack: I won East Coast NSSA Longboard championship in April, the USA Surfing Longboard Championships in U14 in June as well as defended my title from 2018 to win back-to-back NSSA National Championship Open Longboard. I ended up 5th at ESA Easterns in Meneheune Longboard and also traveled to Puerto Rico to surf in my first WSL event and ended up equal 13th.
Wow, quite the resume. Aside from the jersey, what else can you reflect on for some stoke during these tough times?
Overall it's been a pretty amazing year. In 2019, I traveled to Costa Rica, Puerto Rico and California twice and many places on the East Coast. In 2020 I went to Hawaii for the first time which was incredible. I've made some great friends and great experiences on this journey.
You also work with a local icon and WSL Longboard Tour competitor. How long have you been working with him and what was quarantine like working with him?
I have been working with my coach of 7 years, Tony Silvagni, during quarantine when we were allowed to surf. I ran, played basketball and worked out when we were not allowed to surf. Our beaches opened back up last week so it's nice to get back in the water. I've also been homeschooling since January so I had to keep up with my school work.
What's a quote or saying that you look to for inspiration, especially during these times?
My favorite quote is by Kobe Bryant that goes 'Everything negative – pressures, challenges – is all an opportunity for me to rise.' I also like 'It doesn't matter the size of the dog in the fight, but rather the size of the fight in the dog.'
Our family's motto to get through this is one day at time – and we start our days over a lot.
Gallagher Duo: Time and Tide Waits for No Man
The East Coast surfing families run deep and the Gallaghers are no exception with Brynn, 12, and Mia, 14, representing for their hometown of Ocean City, New Jersey. Both had a prolific 2019 and headed into quarantine with a lot of motivation – and luckily waves to still be had locally during the ordeal. We were stoked to link up with the duo to get their perspective and catch up. 
ESA: How have you stayed busy during the times of quarantine? 
Mia: During quarantine I have been surfing a lot with my dad and my sister. We have been so fortunate to be able to surf and have waves most of our time in quarantine! With our local gym, Exodus, closed I've also gotten back into skateboarding and learning new tricks on my trampoline to stay active when I'm not surfing.
Brynn: I haven't been working with any coaches during quarantine but the ESA "Talking Story" series has been awesome! I normally workout at Exodus Sport and Fitness with my trainer, Coach Kev, but lately I've been doing workouts at home.
What are some fond memories of 2019 you have to reflect on?
Brynn: My best memory from 2019 was taking the wins at North East Regionals, East Coast Championships, and joining the Roxy team.
Mia: Some of my favorite memories were traveling all around the world to places like Hawaii, Costa Rica, Florida, California, and the Outer Banks. My first trip to Hawaii with the ESA All Star Team last year was amazing! I learned so much from Tamayo Perry and Shane Beschen! Another one of my favorite memories was winning U14 and U16 Northeast Regionals.
Has there been a quote or saying that you remind yourself of to help deal with these tough times? 
Mia: One of my favorite quotes is "I don't need easy, I just need possible," by Bethany Hamilton. While in quarantine nothing is going to be easy, but it is 100%.
Brynn: My favorite quote from quarantine is "Time and tide waits for no man."
Staying Stoked with Mako Musilunas
The Carolinas have brought out some world-class talent from the likes of barrel hunter Brett Barley, Pipeline and aerial standout Cam Richards along with plenty more. Mako Musilunas hopes to add his name to that list of notable talents and the 13-year-old is already enjoying the ride to his fullest.
We caught up with the up-and-coming surfer who was able to stay in the water with COVID-19 closing many surrounding areas up and down the East Coast.
ESA: How were you and your family able to handle the quarantine situation?
Mako: Luckily in our area they did not close the beach to surfing. They only closed it to sunbathers and people who are not exercising.
Having some time to reflect on last year, what are some moments you remember the most?
2019 offered many memorable trips and amazing surf sessions. (Going to places like) California, Puerto Rico, Florida and Outer Banks – late fall the hurricane season in the Carolinas always produces world-class surf and is always the highlight of our year.
Were you able to keep up with any coaches during this time to help keep you on your game?
I stay in contact with ESA All-Star Coach Motes down in Jacksonville, Florida. We try to take as many trips to Florida as possible through the winter months and try to connect with all of our buddies up and down coast, as well as the west, as much as possible.
What's something your family have reminded yourselves during this time?
Stay stoked is our motto for quarantine downtime.
Abby Remke: "Blessed are the Flexible, For They Don't Get Bent Out of Shape"
Hailing from Florida's panhandle, Abigail 'Abby' Remke made an impressive impact throughout her career within the ESA with a positive attitude and leadership quality that put her as an ESA All-Star Mentor. Now that the 18-year-old, recent high school grad looks forward to continuing her education at the University of North Florida we caught up with Abby to look back on standout moments and also how she's held up through COVID.
ESA: How excited are you to be graduated and moving on to the next step?
Abby: I can't wait to be on the East Coast all the time and be around my ESA family. My high school has plans for us to have a traditional graduation ceremony, although altered a little bit, but we are waiting for Phase 2 to begin to confirm a date. Either way, I have loved my time spent in high school but I'm looking forward to the future.
What's something you were able to do during quarantine to stay healthy and sane?
Throughout this quarantine, I have been able to stay active. I have been working with my local performance trainer, KB. He was able to set up challenging workouts for us to do in our city parks, while meeting the social distancing guidelines. I have also been able to continue to Pole Vault and run which has kept me in shape since track season ended.
I have also been able to skate a lot more than I was able to before because I now have free time without traditional school classes and school and club sports. The ESA training and informational videos have been very helpful with keeping my mind on surfing while the beaches are closed. Thankfully, the beaches have been reopened for about two weeks, so I am now able to get back into the water and surf (legally, haha). However, during the beach closure, I was able to surf at a friend's private beach on occasion.
Looking back, what were some moments from last year that stand out and bring good memories to mind?
Some of my favorite moments from 2019 were being able to travel all around the country with some of my closest friends. I was able to go to Hawaii with the ESA All-Star Team in February, California for NSSA Nationals in June, and the Outer Banks for ESA Easterns in September.
Being able to go to all these cool places is an experience in itself but being able to be there with some of my closest friends makes it so much more. Without being part of ESA, I would never have had the opportunity to meet these fellow surfers who have now become lifelong friends and family. I really enjoy competing in all the contests and surfing big waves with my friends and teammates because we really push each other to do our best, support each other, but most importantly we have fun.
What's a motto or saying you've reflected on to help deal with everything happening?
During this time of stay at home orders, a quote that has helped my family and me get through this time is one from my great-grandma – "Blessed are the flexible, for they don't get bent out of shape." This craziness has had a lot of learning curves to it. I have been doing Zoom classes all day in order to be able to continue to graduate on time. My mom and dad have also been continuing to work full time, except now we are all at home. We have had to work together to learn new ways of learning and working. Being at home all the time has allowed my family and I to grow closer and work together no matter what comes at us.
"Be Brave" with Mikaela Nichols 
2019 marked a notable year for 12-year-old Mikaela Nichols.
The Fernandina Beach, Florida, surfer made a name for herself on the environmental front while having success in the jersey and showed what it means to be an All-Star. This year has proven tough for the ocean lover with Fernandina Beach closing its beaches during mid-March and just reopening them the week of May 4. 
The ESA talked all things ocean and beyond with Nichols as she was able to get back to her passion.
ESA: You had a great 2019 with a few first-time trips and also being an environmental activist. Tell us about your initiative?
Mikaela: I was able to really make some very positive impacts with my environmental awareness initiatives. In 2019, I spent the summer trying to be a voice for the planet. I presented every week to different surf camps and other youth organizations my "Save the Planet" presentation for raising awareness of environmental issues, single use plastics and reduce, reuse & recycle considerations.
As an Ocean Ambassador for Starboard, I have been helping to drive change, even if just a little, it all helps : https://blue.star-board.com/ocean-ambassadors/mikaela-be-brave/. In addition, I started an environmental book reading program where I go to the local schools and with the help of another sponsor, Shore Buddies, I read their environmental awareness book to 1st and 2nd graders to help teach kids early about taking care of our planet.
This has all been very rewarding and I have many more things planned when it comes to me helping to raise awareness about environmental issues facing our planet.
That's incredible, what else stands out for you during a busy year of events in 2019?
So many good times surfing from all our local district contest to competing in both Regionals and especially Eastern's. It was so fun to go to Hatteras for the first time, I can not wait to go there again. We were not really able to go on any surf trips in 2019 but we did do several trips down to Central Florida to surf spots like Ponce Inlet, New Smyrna and Cocoa Beach. It is always so much fun to surf other places. I really hope when things settle down that I will be able to surf some other places soon.
How did you and your family handle the last few weeks during quarantine and stay-at-home orders?
Our beaches just opened this past week and before that we could not even go walk on the beach this whole time, so surfing has not really been an option for me the whole time during the stay at home orders. The city also shut down the skate park so my dad built a skateboard half pipe in the back yard and that was really good for me to get some cross training in for surfing. But the first day the beaches did open we were probably the first ones in the water. It was a small day so I mostly just longboarded but it was great to just get out in the water and surf with some friends.
I have also watched as many of the online ESA shows as possible, whether it was the Talk Story episodes or the training course that are now being offered. These have been really good while we have been home and have helped a lot.
What did you feel helped the most being able to keep up with any kind of routine you could find? Or did you find new, creative ways to stay active?
It has been really different, especially not going to school and having to do homeschooling. When we went into shutdown, I had to get into a routine with school at home and then also look for other ways to stay active but really that was not too hard whether it was skating on the backyard halfpipe or going for bike rides and running I have been able to stay active.
What's been a saying or motto that's helped with everything happening?
Well we have just been pretty much going with it and trying to do our part to stay safe and keep others safe. I always try to live by my own motto of "Be Brave". this motto is on all my boards so I can see it every time I paddle out, but I think it is just as meaningful now with what is going on.
In honor of our seniors graduating, pt. 4 will highlight an ESA All-Star and Mentor Abby Remke this Friday, May 21.
Cooper Jewell: Wash Your Hands and Stop Touching Things
The northeast was hit hard with New York as an epicenter of cases and surrounding communities such as New Jersey receiving heavy blows. Fortunately for surfers, keeping up with their passion and craft remained on offer for New Jersey residents and one rising talent Cooper Jewell kept his blades sharp.
Eastern Surf Association caught up with the soon-to-be teenager who's been on the receiving end of late-season swell and relished in the opportunity.
ESA: How has quarantine gone for you and what's kept you busy with the ocean still open for you and fellow New Jersey surfers?
Cooper: We have been able to surf in Ocean City, and Matt Keenan and Rob Kelly are always nearby to help out. I've surfed every day that there are waves – and even a few when there really wasn't much out there. I do some workouts at home, and I've been skating on my Carver.
With no events on the horizon due to the virus, what are some moments from 2019 you can reflect on and recall happier times?
The ESA All-Star trip to Hawaii, Easterns lay days and going down to Buxton to get worked by shore break shacks with friends from the entire East Coast (are a few standout memories). Also seeing my hard work pay off with some solid results late in the season.
What's a notable quote or saying that you and your family have adopted to deal with these tough times?
WASH YOUR HANDS AND STOP TOUCHING THINGS!
The Viorel Siblings "Can't Avoid Everything, Just to Avoid Something Bad Happening"
A pair of North Carolina's upcoming sibling duos of Finn and Gabby Viorel were among those fortunate surfers able to surf through the quarantine with support from their father Jack taking them to secluded spots. Finn, 12, and Gabby, 17, both had notable performances throughout 2019 including some big wins and Finals appearances. The Viorel family has handled the recent tougher times together which brought them even closer because of it.
ESA: What we're some memorable moments of 2019 you can reflect on?
Gabby: 2019 was a great year for me. I started to focus on my longboarding a little more. I had some big wins – 2019 Mid Atlantic Regionals Jr Women Longboard, The Sweetwater Pro-Am in Open Women Longboard, Folly Beach Wahine Women's Longboard, and The WBLA Longboard Pro-Am Women's Division. I was honored to make the ESA All-Star Team for my second year.
Finn: It was my second year competing and the first season I competed beyond local events. I had a couple of great finishes with my first ever Mid-Atlantic Regionals and I made the finals in my first ECSC event. I was also one slot away from making the Rip Curl Grom Search National Championships. Making the ESA All-Star Developmental Team and Billabong team was something I'm proud of. One of my proudest accomplishments has been playing my own ukulele music for my surf edits.
How have you and your family dealt with quarantine? Were you able to surf and keep to a somewhat normal routine?
Finn: We surfed a lot during the quarantine. Our dad took us to different beaches that were far from people and on boats to nearby islands. We surfed some sharky waters just so we could keep surfing. Because of my background in parkour, I always do a lot of land/trampoline training, so I did a lot of that.
Gabby: We found some off the beaten path beaches and islands to surf. As far as training, my dad set up a lot of land training sessions for us in our garage and driveway. I was able to meet one day a week with a land training coach here locally. Overall we were able to stay tuned up and in shape so our family maintained a routine. I like to paint so had a lot of time to do some art.
Finn: Our parents did not like the shutdown. Our dad almost went out of business and our mom worked at home. Since our dad wasn't working he made sure we did our surfing, workouts, school and stuff and our mom always makes us eat healthily and that our immune system can fight off most things.
Gabby: One thing we always did as a family was to spend evenings together from 6-10 pm. We cooked, ate dinner, and cleaned as a family every night. Then we would watch The Office, Parks and Rec or something fun together.
What's something inspirational or motivational you've seen or heard during this time that you will remember and take with you?
Gabby: As a family, we were not that thrilled about the Stay at Home orders, but my parents made the most of it for us. We try to live a healthy lifestyle and believe in eating well, being outdoors and being physically fit, so in some ways, it cramped our style but our dad would often say, "You can't avoid everything, just to avoid something bad happening!"
The Viorel family also works with the vision impaired to encourage ocean therapy for those who have never seen or been in the water. Check out their incredible work with Jax Indo Surf Charities