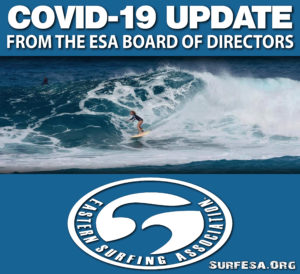 The Eastern Surfing Association's Board of Directors is continuing to monitor the situation relating to COVID-19.
All three ESA Regional Surfing Championships and ESA local events were put on hold last month and will continue to be on hold until further notice.
The ESA's Southeast Regional was supposed to kick off the organization's post-season championship season this weekend in Melbourne Beach, Florida, but will be postponed until a later date in May, if possible.  The Mid-Atlantic and Northeast Regionals scheduled for May 1-3 and May 8-10, respectively, will also be postponed to later dates, if possible.
"The safety of our members, competitors and officials are our number one priority," said Joe Grottola, ESA's Competition Director.

With beach and travel restrictions currently in place, as well as stay-at-home orders for all East Coast states until the end of the month, the ESA will be discussing alternate dates for the three qualifying events for Easterns® following any updates that may be made later this month.
"Everyone is hoping to get back to some normalcy sooner than later," said ESA's executive director Michelle Sommers.  "If things improve and restrictions begin opening up, the ESA is hoping to offer these amazing events to everyone who is looking forward to them."
"We know there is the possibility of cancellation if restrictions are not lifted, but if things improve, the ESA will plan for the events to be held before mid-June," adds Sommers. "We want to thank everyone for their patience and understanding during this unprecedented time."
For current information, and upcoming online ESA content, be sure to visit the Eastern Surfing Association's main Facebook page.
Please direct any questions to [email protected].