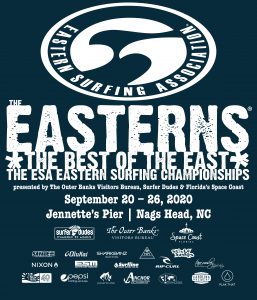 The Eastern Surfing Association (ESA) held a raffle to support the organization's Easterns® Surfing Championship that was held last week at Jennette's Pier in Nags Head, North Carolina.
"ESA's sponsors are always supportive, and this year they went above and beyond to help the ESA," said ESA's Executive Director Michelle Sommers.  "This year has been difficult for everyone and our sponsors offered their amazing products to help provide support for The Easterns® event that we needed."
Here is a list of the winners:
Savage Surfboards – Custom surfboard – James Malandro
OluKai Footwear – OluKai footwear – Mike Carter
Sharkbanz – Sharkbanz band – Ronnie McGraw
Rip Curl – $50 code – Finn Hillis, Michael Avallone, & Megan Smith
Hydro Flask – Water bottle – Bethany Mammarello
Hydro Flask – Coffee traveler – Brenda Hemstreet
Remke Woodworks – ESA longboard skateboard – Linda Schuett
Eidon Swimwear – $100 gift code – Susan O'Connell
Congratulation to all the winners, and thank you to everyone who offered their support!